Labor Day Parade 2014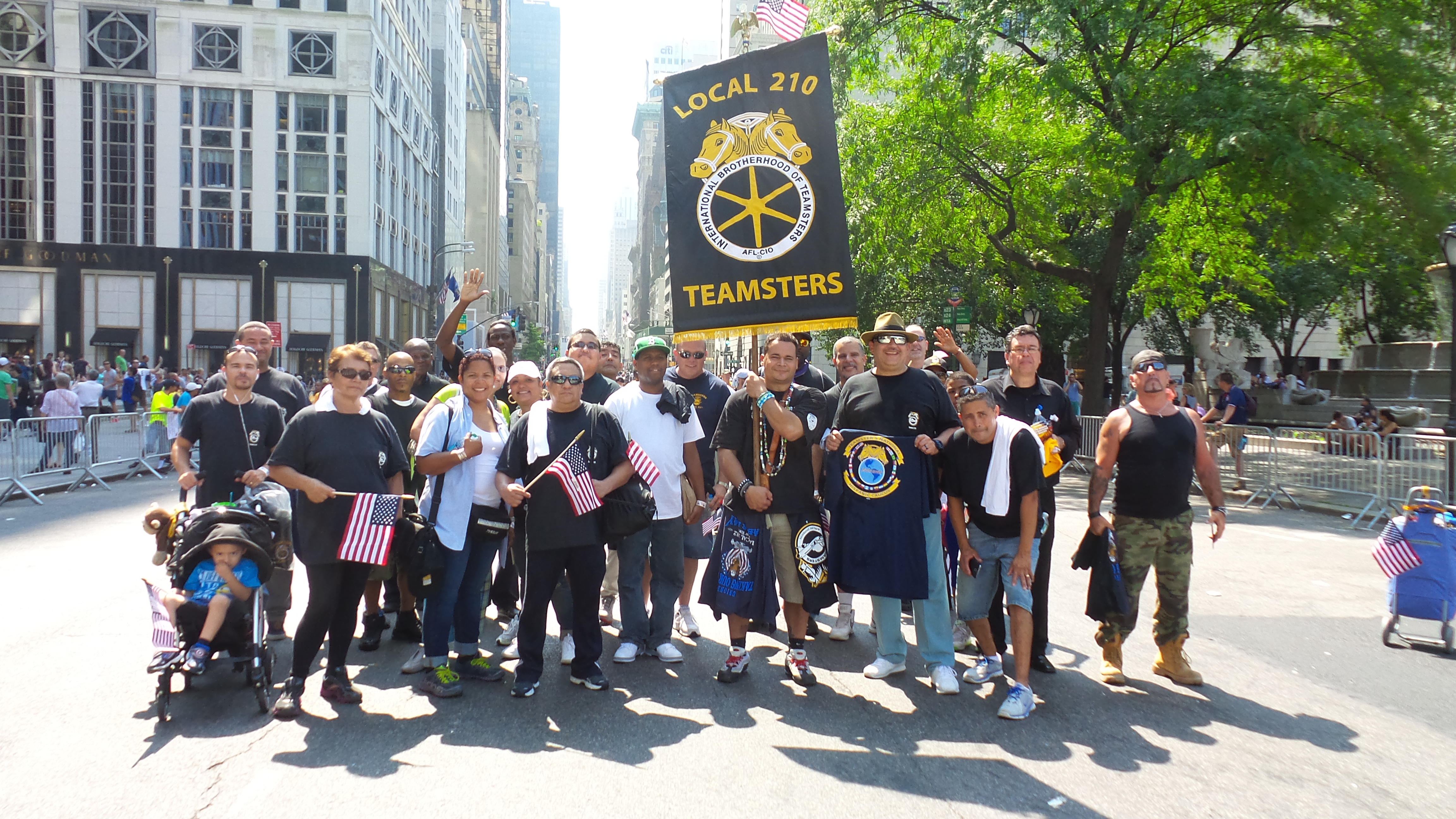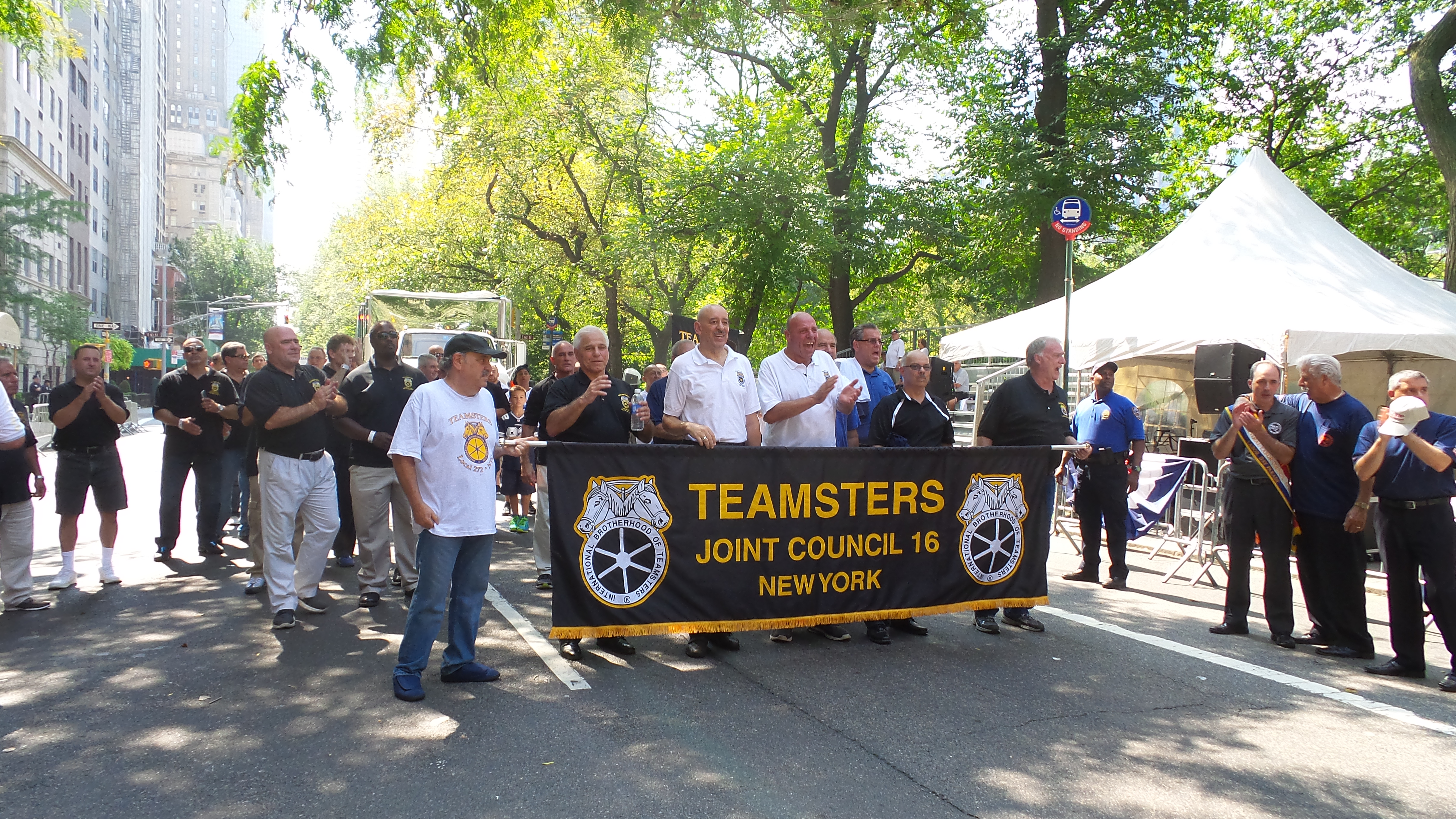 NYC Labor Day Parade 2014
September 6
Diversity is Strength at Teamsters Hispanic Convention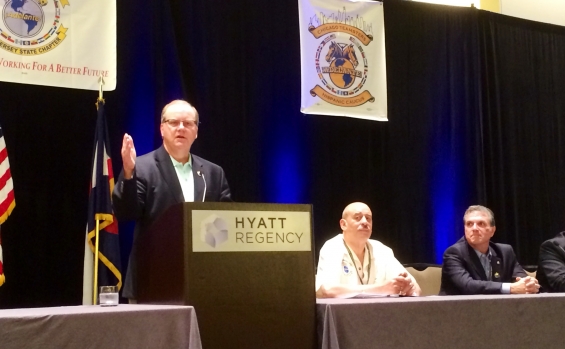 About 200 Teamster delegates and members assembled this morning in downtown Denver, Colo. to convene the opening plenary of the 2014 Convention of the National Teamsters Hispanic Caucus. See more photos from this event.
"One of our union's greatest strengths is our diversity – and we are more diverse today than ever before," said NTHC President George Miranda, who called the convention to order.
"You cannot separate who we are as Hispanics and who we are as Teamsters. Union organizing and Hispanic ivil rights are forever linked," said Miranda, an International Vice President and Secretary-Treasurer of Local 210.
Miranda told attendees that Latino Teamsters are at the forefront of important campaigns at Taylor Farms and Republic Waste, and they are leading the fight for immigration reform and the DREAM Act. He highlighted victories like a recent municipal identification card law in New York that gives undocumented workers access to essential public services.
"Let's recommit ourselves to pressing for justice when we go back home to our locals, fighting to elect those who are dedicated to winning a just immigration system in this country," he added.
International Secretary-Treasurer Ken Hall gave opening remarks to delegates, underlining the importance of the Hispanic Caucus and the need for Teamster engagement in the upcoming election season.
"The Hispanic Caucus embodies a large and diverse section of our membership, and the important issues the Caucus works on affect all workers, Latino and otherwise," said Hall. "The fact is our immigration system is absurd – it encourages employers to abuse workers and break the law, which hurts all workers. This is not just a Latino fight – it's a moral fight."
Hall also urged locals and members to hold elected officials accountable.
"We need to let politicians know that we're not just going to hand out money if they are going to forget about us when it comes to important issues like pension reform," he said.
The convention's keynote speaker, Colorado Lieutenant Governor Joseph Garcia, talked about his career as a truck driver before running for office. He emphasized the need for educational support for Latino youth in the state.
"We all want our kids to have options, but those options come only from having a good education. The history of this state is built on Latino culture. Two-thirds of the children in Colorado's education system are Latino. So not only is the Latino community part of our past – it is part of our future," he said.
Garcia added, "Whether we are Latino, African American or white, we need to be working on closing the gaps in education and income."
Other convention speakers on Friday included International Vice President Rome Aloise, President of Joint Council 7 in Oakland, Calif., and Ashley Alvarado, Secretary-Treasurer of Local 601 in Stockton, Calif. Aloise and Alvarez talked about the ongoing organizing struggle at Taylor Farms.
"When I started as a Teamster, we had 80,000 members working in the canneries. Most of them started as braceros who eventually joined the Teamsters. That changed an entire generation of people, allowing Hispanic workers to rise into the middle class and raising standards for everyone. That's why today we are putting our resources into organizing food processing workers in the California Central Valley," said Aloise.
"I'm a product of an immigrant family – my father was a bracero", said Alvarado. "The things my father saw 50 years ago are the things we're seeing today at Taylor Farms."
Alvarado connected the fight for justice at Taylor Farms to the fight for immigration reform, explaining how the current system keeps workers afraid and unorganized.
"For most of us, if we lost our jobs we'd be devastated. But these workers at Taylor Farms are risking deportation and their families. They are risking everything just to have dignity," she said.
The audience heard from Roberto Carrillo, a Taylor Farms worker who traveled to Denver to speak about the campaign. Organizer Raul Alfaro was emotional when talking about Carrillo's coworkers.
"The stories I hear almost every day are heartbreaking – women being abused, mistreated. These are human beings, but the company just sees them as dollar signs," said Alfaro.
Caucus members passed a basket around the room and collected $2,000 to support Taylor Farms workers who have been fired for their union support.
Delegates at the convention also heard from Colorado Representative Crisanta Duran and City and County of Denver Councilwoman Deborah Ortega who talked about the need to fight against income inequality and encouraged union members to run for political office.
After George Miranda presented a charter to the newly-established Pennsylvania chapter of the Hispanic Caucus, the morning plenary was concluded with a fiery speech by International Vice President Steve Vairma, Secretary-Treasurer of Local 455 in Denver and Director of the Teamsters Warehouse Division.
"This Caucus is essential for this union because it gives us another vehicle for engaging and embracing our members. It's a powerful part of the Teamsters organization as a whole," he said.
Vairma talked about the ongoing campaign to save jobs in the pending Sysco-US Foods merger.
"We are engaging the entire union to activate members in this fight. We're talking to the non-union workers in the company and we'll be picketing and demonstrating at every non-union distribution center to win this battle. We're telling our members to get active, don't be complacent. And we're showing the companies that we're not just taking them on in one state – we're taking them on in all 50 states," said Vairma.
While he couldn't be there in person, Teamsters General President Jim Hoffa sent his greetings by video.
"We must stand together to ensure that every worker regardless of documentation gets fair treatment on the job. This Caucus's efforts make the Teamsters union stronger," said Hoffa.
In the afternoon, a panel of community allies talked about their work supporting union members and low-income families. Allied organizations included FRESC (Front Range Economic Strategies Center), Latina Safehouse, the Iowa Center for Worker Justice, the Denver Area Labor Federation, AFL-CIO United Way, and Servicios de la Raza. The groups work with Teamsters on multiple issues and services including: affordable housing advocacy for low-income people of color; worker and environmental justice in the solid waste industry; helping undocumented women suffering from domestic violence; filing wage theft claims for non-union immigrant workers; and providing youth education and HIV/AIDs services to the Chicano community in Denver.
This evening Hispanic Caucus members at the convention are participating in an action with FRESC, leafleting at the Colorado Rockies baseball game about Republic Waste Services' environmental crimes and anti-worker practices.
"This is a great event for me because in general we need to get more organized and we need to share what we learn with other members, especially those who are not as involved and don't know or understand their rights," said Jaime Costilla, a member of Local 705 at UPS in Chicago.
"This convention has been really inspiring so far. I liked the discussion about providing community services for Chicanos. It's really great to see the Hispanic Caucus and the Teamsters taking an active role in the fight for immigrant rights and deferred action for undocumented students," said John Valdez, a member of Local 2010 at the University of California.
Another full day is planned for tomorrow. Delegates will hear from more speakers including former U.S. Interior Secretary Ken Salazar, First Vice President of the NTHC Maria Perez, International Trustee and NTHC Executive Director Ron Herrera, and others.
2014 Convention of the Teamsters Hispanic Caucus Kicks Off

Teamster delegates and members from around the country are gathering today in downtown Denver, Colo. for the 2014 Convention of the National Teamsters Hispanic Caucus (NTHC). This year's event includes two days of plenaries, workshops and speakers, including Colorado Lieutenant Governor Joe Garcia. View more photos from this event.
"As Latinos in the most powerful union in North America, it's extremely important for us to come together and talk about the national issues that are impacting Hispanic workers throughout the country," said NTHC President George Miranda.
"Members of our Caucus are at the center of some of the most critical organizing battles in the labor movement today and we're on the frontlines in the national struggle for immigration reform that delivers justice to millions of hardworking Latinos and all working families. We're looking forward to a great convention to get us prepared for the upcoming election season and beyond," said Miranda, who is also an International Vice President and Secretary-Treasurer of Local 210 in New York.
Registration for the Convention began this morning and will be followed by two full days of workshops, speakers and Caucus elections.
Teamsters General Secretary-Treasurer Ken Hall will speak at the Convention tomorrow along with General President James P. Hoffa who will address the gathering by video. Other notable speakers include Colorado Lt. Gov. Joe Garcia, Former U.S. Secretary of the Interior and Senator Ken Salazar, and Colorado Rep. Crisanta Duran.
Teamster leaders such as International Trustee Ron Herrera, Executive Director of the Caucus, and International Vice Presidents Steve Vairma and Rome Aloise will speak to delegates, discussing important organizing efforts and political campaigns affecting Latino workers and Teamsters nationwide.
"It has been a busy year for the Hispanic Caucus, from the ongoing fight for justice at Taylor Farms to the fight for municipal identification cards that will allow undocumented immigrants access to important city services. We must stand together to ensure that every worker regardless of documentation gets fair treatment on the job," said General President Hoffa.
"This Caucus's efforts make the Teamsters union stronger," Hoffa added.
The Teamsters National Hispanic Caucus was founded to assist and promote the interests of Hispanic Teamsters and the International Brotherhood of Teamsters, and to promote those interests on the local, state, and national level.
Our President Miranda as an Advocate for Transform Don't Trash
Here are two articles covering the Campaign:
NYC Teamsters begin campaign to create good commercial waste jobs
Members from Locals 813, 917, 553, 814, 210, 272, 295,808, and 807 on the steps of City Hall to rally in support of our proposed waste removal initiative!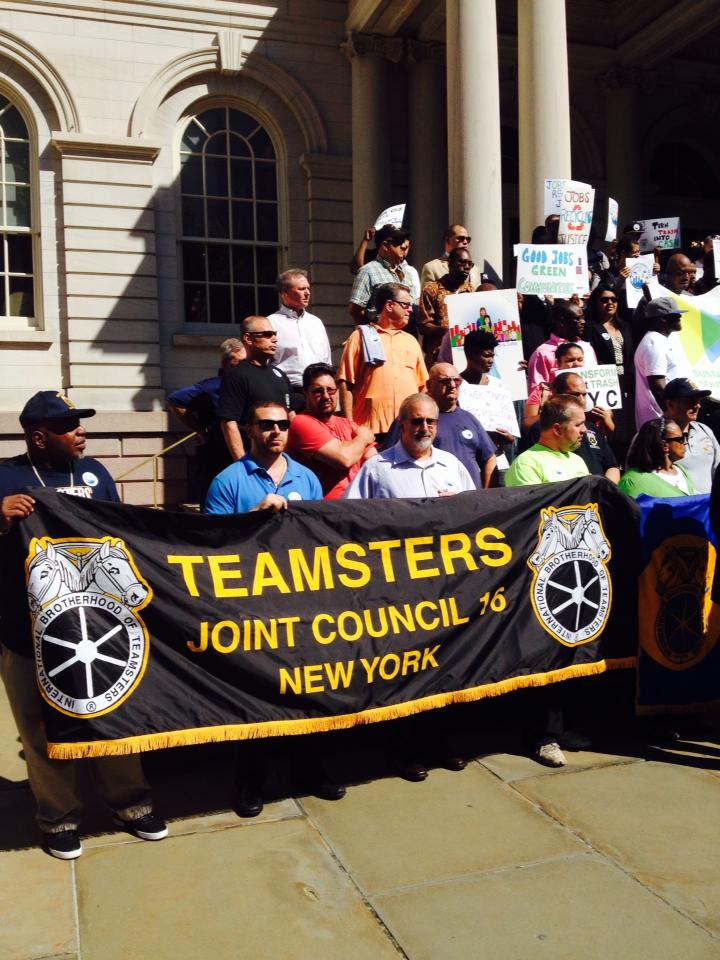 | | | |
| --- | --- | --- |
| | Action Center | |
| | | |
| | | |